[embedyt] https://www.youtube.com/watch?v=wkFdRwsRCHQ[/embedyt]
---
Would you like educational talks or

training

for your group of Entrepreneurs or Business Owners?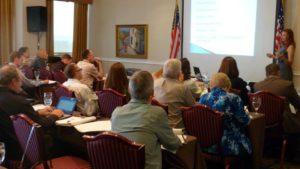 You know how as a business owner it is easy to get overworked and overwhelmed?
My passion is helping you as an owner reclaim your time by creating step by step, easy to follow blueprints that take the headache out of running a business.
I love reaching out to offer guidance and do trainings for local business groups.
I find that the majority of small business owners get into business because they are really good at their particular skill, but don't know how to actually run and grow a business. This usually results in you becoming a slave to your business and then you end up owning a job instead of a business, never realizing your goals of having a business.
This is where I come in! I work with owners like you to develop and implement processes and systems for your business operations. This makes business run more efficiently, in turn providing measurable results and replicable systems to increase revenue.
More importantly, this allows owners to have time to focus on what they love doing instead of drowning in the day to day running of their business.
My unique background as an engineer and Peace Corps volunteer allows me to combine my analytical, systems based training with creative problem-solving abilities, to create individualized solutions to seemingly insurmountable issues.
If your group members have a headache in their business that they don't know how to solve or they feel overwhelmed and drowning with everything they have to do and oversee, then I can come in and teach about implementing business processes and systems!
Don't worry I always make my talks entertaining as well as educational. I want the audience to relax and have a good time, as that is the best way to learn. However, since we only remember a fraction of what we are taught, I make sure to provide take-home materials as well!
 Click HERE to get more information about speaking to your group.
"Jenna's workshop was incredibly helpful in highlighting where our business could be
more efficient and how best to streamline certain processes!
Excited to put all of this information in motion!" – Heather Borders
Upcoming Speaking Engagements
Speech Topics Samples

Create the Business of Your Dreams…Don't Own a Job
Discover the key to reclaiming your time and increasing your revenue through the creation of processes and systems. You will learn how to:
Get Clear On Your Goal

Analyze Current Processes in Your Business

Identify Which Changes Will Have the Biggest Impact

Let the Systems Run Your Business
Referral Marketing Made Easy
Are your current clients referring more clients to you? If you are not asking for referrals, you are leaving easy money on the table! This is a system every business needs to have in place to make it easy to know when and how to ask every single client for a referral.
Comprehensive Client Intake
Are you wasting time by not getting all the necessary client information upfront? Do you find that you have to go back and forth with clients to get everything you need or spend needless time waiting on responses? Having a clear intake system will not only ensure that you receive all information and data you need, but also that clients will know what to expect out of the process so that there is no confusion on either side.
Increase Profits with Consistent Lead Follow Up
We often focus so much on our marketing and getting prospect leads that we then let the majority of them fall through the cracks and do not fully take advantage of those who are raising their hands to let us know they are interested. You never know who is going to turn into a paying customer so you need an easy way to ensure that you have followed up for ALL of your leads.
Getting New Products/Programs to Market Quickly
Do you often get stuck when creating new products for your clients and prospects? Systems will allow you to more easily not only create but quickly implement new products or programs to increase your revenue further.
Creating Replicable Results for Every Client, Every Time
You need to ensure that you have replicable results so that every client can expect the same quality results from the expectations you set. This will ensure that you will get repeat business and/or quality referrals!
Hiring without the Headache
This is something most business owners dread. This is normally a product of not having a clear vision of the exact job you need to hire for and what skills are necessary and desired. Systems include creating concrete job descriptions and evaluating the skills required for the position. In addition to this you also need to have a clear vision of your business. This will allow you to identify the type of people who will help you reach your business goals.
Managing an Effective Team
Do you have high employee turnover, too many employees reporting directly to you with every little issue, or other issues with your team not completing their job to your satisfaction? Yes, this can be fixed! You can set up systems so that everyone knows exactly what is expected of them, who to report to and the metrics by which their job will be evaluated.
Click HERE to get more information about speaking to your group.
Past Speaking Engagements
2019 PS27 Ventures Leadership Week
Navigate: A Women's Summit
Tennessee Recruiters Association
2018 PS27 Ventures Leadership Week
Murphy Business Sales – Grow a Profitable Business that Runs Without You
2017 PS27 Ventures Leadership Week
Keller Graduate School
North Florida Women Business Owners
Jax Community of Entrepreneurs
Tampa Bay Business Owners
Working Women of Tampa Bay
West Florida Real Estate Investors Association.
Women's Mimosa and Business Club
Small Business Consulting Services
2015 Annual Tampa Bay Business Expo
"Nice tip not to "over think it." I am a HUGE over-thinker. The format and delivery is great!
The conciseness is particularly helpful. Sincerest thanks from an obviously poor time manager.
I especially like that it is workbook style." – Marie Edwards, Finacial Professional